Aviel Electronics Solutions
WiFi and FCC Compliant Antenna Connectors
Aviel Electronics manufactures and modifies "unique coupling connectors" for antenna connections that require compliance with Part 15.203 of the Federal Communications Commission regulations. The connectors range from totally custom to a specific application to a modified version of a standard connector interface to a "standard" reverse polarity interface.

Flange mount, crimp and compression cable mounts can be used with uniquely interfaced connector pairs to preclude the possibility of erroneous component mismating. "Coded" pairs can also be fabricated to add further uniqueness within a family of connector components.
Precision Components Fabrication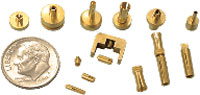 Aviel Electronics fabricates precision detailed components such as contacts, insulators, diode and crystal holders, bodies, insulators, and transmission and mechanical components to customer specifications. Component sizes range from the subminiature to several inches in diameter, depending on component configurations. All phases of fabrication from slotting, crimping, heat treating and plating can be accommodated, and quantities from prototype to production are welcome.
Prototype Connectors

Aviel Electronics innovative manufacturing and modification capabilities allow for a quick reaction to your specific needs and short lead time for prototype components, generally without non-recurring engineering or tooling costs.
Quick Disconnect Connectors with Lanyard Release Solve Varied Problems
Aviel Electronics' Quick Disconnect Connectors with Lanyard Release disengage from each other when applying an axial force to the attached lanyard, but will not disengage when applying axial force to the coaxial cable. Our design ensures that the connectors will remain securely mated in their application until a quick disengagement is required and prevents unintentional disengagement from coaxial cable tension.

With the versatility of a slide-on connector and secure connection of a standard coupling nut connector, these Quick Disconnect Connectors with Lanyard Release offer the best solution for a variety of applications. Whether you need your connector to disengage during launch or you want to reduce the setup time of connecting and disconnecting your test equipment, our Quick Disconnect Connectors with Lanyard Release is the solution. Since we custom manufacture these connectors in our Las Vegas, Nevada factory, we offer them in various line sizes, materials and finishes.

The Quick Disconnect Connectors with Lanyard Release shown here have a performance rating compliant with MIL-PRF-39012 TNC connectors. The engagement force does not exceed 7 pounds and disengagement force is between 1.5 to 9 pounds with the Lanyard pull angle 10º maximum from the axis of the connector.
Obsolete and difficult to locate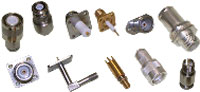 Aviel Electronics can fabricate functional equivalents for most RF coaxial connectors and adapters that are obsolete, discontinued or no longer available. Aviel specializes in manufacturing connectors that are of a standard configuration but are not easily obtainable including discontinued series of other connector manufactures.

Aviel Electronics can cross reference to many of the more common connectors manufactured by other connector suppliers. Available in all common interfaces, including SMA, SMB, SMC, MCX, and other miniature series, and larger interfaces such as BNC, TNC, N, C, SC, HN, LT and LC.

Typical body materials include brass, stainless steel and aluminum, plated with gold, silver, nickel, anodize and olive drab. Contacts materials are brass, beryllium copper of phosphor bronze, with gold or silver plating. Virgin PTFE is the primary dielectric material with other material options available. Body configurations include straight, right angle, bulkhead, flange mount, blind-mate, tri-axial and others.
Hermetically Sealed Connectors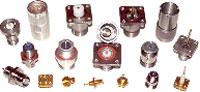 Aviel Electronics can manufacture and modify hermetically sealed connectors and adapters in most series for environmental and space applications. Once the connector series and body configuration is established, the inner construction of the connector can be designed to supply the sealing required for your operating environment. Sealing can be accomplished by using O-rings, epoxy seals and glass-to-metal seals. Seals can easily withstand air pressures of 100 PSI+ of pressure and helium leak rates of ‹1 x 10 -8 cc/second of helium tracer gas. Applications can range from moisture resistance sealing, space applications, material detection systems, isolation of volatile materials, and altitude problems. Connectors can be supplied in configurations from small custom designs through SMA, TNC, N, SC and HN sizes, and in body configurations from bulkhead, screw-in, flange mount, and press-in designs.
Custom RF Connector Solutions for Limited Space Applications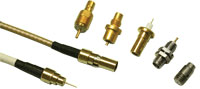 With sizes ranging from SMA and below, options can include hermetically sealed connectors and non-magnetic materials. Cable assemblies can be provided to incorporate these small connectors into your system.