Aviel Electronics Capabilities
Prototype Connectors

Aviel Electronics provides turnkey design and manufacture of small run prototypes, with the capabilities to support production ramp up quantities and volume production requirements.
Difficult to locate Connectors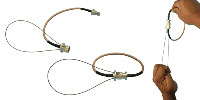 Specialize in manufacturing connectors that are of a standard configuration but are not easily obtainable including discontinued series of other connector manufacturers. Aviel Electronics can cross reference to many of the more common connectors manufactured by other connector suppliers. Typical items include blindmates, SMA, SMC, MCX and other miniatures, as well as BNC, TNC, N, C and HH series. We will design and manufacture connectors to solve your specific problems.
Obsolete Connectors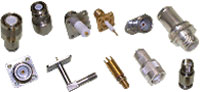 Fabricate functional equivalents for most RF coaxial connectors and adapters that are obsolete, discontinued or no longer available. Available in all common interfaces, including SMA, SMB, SMC, MCX, and other miniature series, and larger interfaces such as BNC, TNC, N, C, SC, HN, LT and LC. Typical body materials include brass, stainless steel and aluminum, plated with gold, silver, nickel, anodize and olive drab. Contacts materials are brass, beryllium copper of phosphor bronze, with gold or silver plating. Virgin PTFE is the primary dielectric material with other material options available. Body configurations include straight, right angle, bulkhead, flange mount, blind-mate, tri-axial and others.
Modified Connectors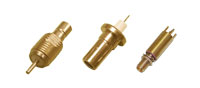 Eliminate your buy and rework problems by fabricating connectors to specifically match your end use, saving costly rework, and inspection time in your company, not to mention our ability to meet your J.I.T. needs.
Cross Reference Connectors

Cross reference to many of the more common coaxial connectors manufactured by other connector suppliers. Typical items include blindmates, SMA, SMA, SMC, MCX and other miniatures, as well as BNC, TNC, N, C, and HN series.

Precision components Fabrication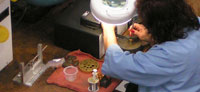 Fabricate precision detailed components such as contacts, insulators, diode and crystal holders, bodies, insulators, and transmission and mechanical components to customer specifications. Component sizes range from the subminiature to several inches in diameter, depending on component configurations. All phases of fabrication from slotting, crimping, heat treating and plating can be accommodated, and quantities from prototype to production are welcome.

Hermetically Sealed Connectors

Design and manufacture hermetically sealed connectors and adapters in most series for environmental and space applications.
Manufacturing Capabilities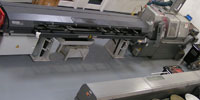 Manufacturing capabilities enables cost savings with 2 Swiss CNC (Computer Numerical Controlled) lathes. The addition of the machines increases the capacity and efficiency of producing RF connector components used in the manufacture of connectors and adapters. The CNC machines will run components from .02 to 15/8 inches in diameter.